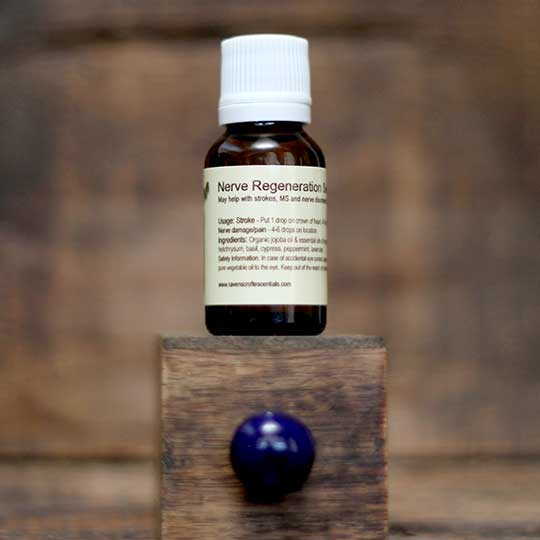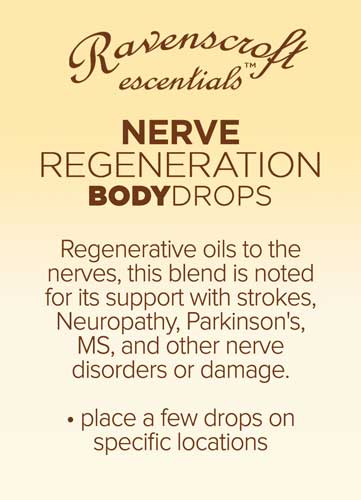 ONE OF OUR MOST POPULAR BLENDS. May help with strokes, MS, nerve disorders and damage, including carpal tunnel. 
Click this link to hear founder/owner Ginger Ravencroft break down exactly how Nerve Regeneration works. 


Usage: For stroke, put 1 drop on crown of head, 3-5 drops at top of spine. For nerve damage/pain, 3-5 drops on location.
5 mL: 110 drops
15 mL: 330 drops
30 mL: 660 drops

Ingredients: Organic jojoba oil & organic essential oils of juniper, helichrysum, basil, cypress, peppermint, lavender...
The larger the bottle you buy, the more $$ you save!
33% off when you buy a 15 ml.
44% off when you buy a 30ml.
A NATURAL APPROACH TO RELIEVING NERVE PAIN & DISCOMFORT
What do numbness from a war wound, shooting nerve pain from several spinal surgeries, neuropathy from chemotherapy, and multiple issues resulting from a stroke have in common? Each individual suffering from these ailments found life-changing relief by using our Ravenscroft Escentials Nerve Regeneration Serum. What makes Nerve Regeneration so amazing at relieving pain and aiding nerve related issues so successfully?
It begins with 22 years of experience and a passion for helping people address pain naturally. Decades of researching the best botanical ingredients known for centuries to work as medicinal remedies for nerve damage and disorders have been spent to create a blend to address these particular problems. From MS, carpal tunnel, and sciatica to aiding in stroke recovery, there are specific organic essential oils that target these issues. Testing extracts from a multitude of distilleries to find the best source for each oil went in, to ensure the highest level of organic purity and potency.
To learn more, check out our blog.
Testimonial Compilation:
"Your oils are amazing. The burning in my right big toe completely subsides with the Nerve Regeneration Serum. I'm so thrilled to have something to use and to not rely on narcotics. I want to order one for my Dad who has the same issues. You absolutely put love in your work and it shows in every drop off your oils. Sending you lots of love!"
- Jennifer F.

"I have sciatica, so you drizzled a Nerve Regeneration Serum onto my fingers which I massaged into my sciatic nerve area. This has been a source of extreme pain for me for over two years, and the relief was instant. I have had acupuncture, deep tissue massage, hot stone massage, chiropractic visits, numerous trips to the flotation tanks (epsom salts) and yoga. Although all of these treatments have been beneficial and lovely, none have addressed my pain. I am not one who is easily wooed, but I could hardly believe that I was pain free after applying your oil to my back! I decided I needed to sleep on it, since that is where my pain bothers me the most (oddly, I cannot sleep because I am in so much pain, yet I get through my work day just fine). That night I slept pain free for the first time in over a year. And again, I slept with no pain last night too. I don't know what to say. I think you have created something incredibly potent and accurate. I listened to every word you said and I greatly respect your knowledge. Please let me know when you are in Portland again. Thank you very much."
- Lori M.
Individual Testimonials: