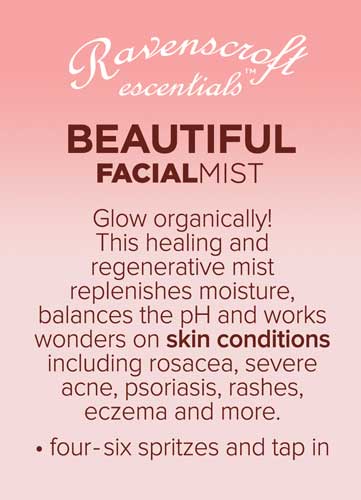 These regenerative healing oils are famous for working wonders on skin conditions, including rosacea, severe acne, psoriasis, eczema, and more. One of our best sellers!


Usage: Shake well. Close eyes and mist onto face and neck 5-7 times while inhaling through the nose.
Ingredients: Distilled water, organic jojoba oil, organic essential oils of rose, jasmine, carrot seed, rose geranium, rosewood, lavender, roman chamomile, ylang ylang and other pure essential oils.
GLOW ORGANICALLY - TOP FIVE REGENERATIVE HEALING OILS FOR GLOWING SKIN
What makes using Organic Essential Oil Blends so amazing for our skin?? We've all heard about the therapeutic benefits of aromatherapy, but their work doesn't stop there! These organic, plant-based oils have healing properties that can aid exfoliation, encourage cell regeneration, act as anti-inflammatory, anti-microbial, & anti-bacterial agents, and work wonders for anti-aging. So, let's learn about the top five organic essential oils that will help your skin GLOW...
Click here to read more!
WINTER SHIPPING
During the winter months, freezing temperatures can cause the mister bottles to explode en route.
To conserve these precious oils, we will send you an empty mister bottle and a 5ml bottle of serum/concentrate.
Simply fill the mister bottle 90% full with distilled water and add the entire 5 mL bottle of serum/concentrate.
Screw cap on tightly, shake, and mist away! :-D
"I am ordering more of the Beautiful Facial Mist because it just plain works! I have used the Beautiful Facial Mist for appx. 60 days (about two bottles) and am quite pleased with the results. After about one week I noticed a softening in one of the deeper lines in my face and over a period of the time using the product, the area was definitely better. Even after being out of the Facial Mist for a while the squint/smile line around my left eye and cheek is still somewhat better then it was prior to the first week's usage of the product." 
- Cal M. 
Individual Testimonials: