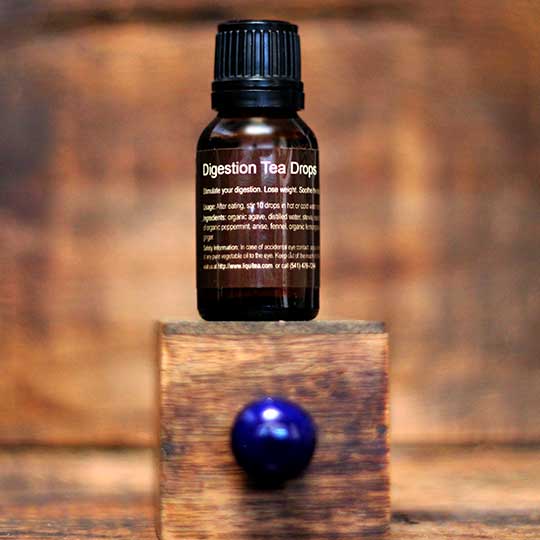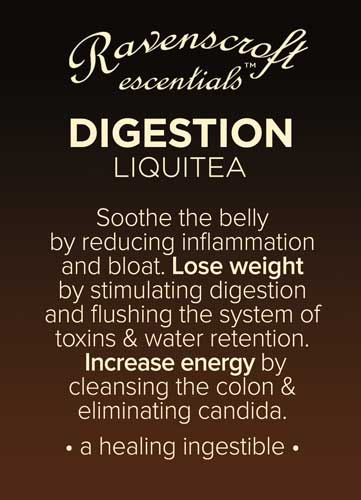 WINTER SHIPPING WARNING: 
If you are having a Mist or AromaTea shipped to a destination where temperatures reach below freezing, you assume the risk of the bottle exploding in transit. We recommend purchasing Priority Shipping and having your packaged delivered to an  address where it will not be left sitting outside or in an uninsulated mailbox. Bottles rarely explode, but we do not issue refunds for products that explode because of weather. You can also request that we ship you you an empty mister bottle and a 5ml bottle of serum/concentrate, and you can add distilled water once you've received it.
Please order enough to get you through the winter!
Digestion Liquitea™ drops may assist in promoting weight loss, and stimulating digestion. Soothe the belly by reducing inflammation, pain or bloating.
Usage:
After eating, stir 8-12 drops in warm water and drink.
Ingredients:
Distilled water, organic agave, organic essential oils of peppermint, anise, fennel, lemongrass & ginger.
"I purchased the Digestion Liquitea Drops and love them. I have lost 20 pounds in the last two months and feel so much better. You are a beautiful person, thank you for making people feel better!"
- Robin P.
"My son is prone to sudden stomach aches and nausea. We tried all sorts of OTC and prescription medications! Nothing seemed to work and I hated feeding him so many medications on a regular basis. Then I met Ginger! She was so sweet and kind, and it was clear that her oil blends were made with the utmost attention, knowledge, and love! I bought the Digestion Liquitea and brought it home. For the first few weeks, we had to use 2-4 doses each time he had an upset stomach. I would give him 10 drops on his tongue, and then about 10-15 minutes later, if he was still feeling bad, I would give him 10 more, repeating a few times, until he felt better. It may sound like a lot, but we were just amazed that something was working! Eventually he needed only 1 dose and within 10 minutes he would be fine. Now his episodes are much less frequent and always last less than 10 minutes (as long as we have the drops nearby - heaven forbid I forget them at home and we go out to dinner!!!)." 
- Xela R.