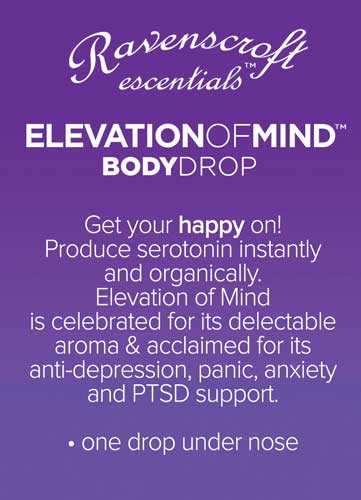 Feel an instant surge of joy with this powerful and delicious blend of seratonin-producing oils. This blend may help with depression, while clearing the fog around the brain for clarity. One of our best sellers!
Usage:
As a body scent, put two drops on wrist & rub together, or six drops on shoulders when entering bath. One drop under nose for depression.
5 mL: 110 drops
15 mL: 330 drops
30 mL: 660 drops

Ingredients:
Organic jojoba and organic essential oils of rose, jasmine, sandalwood, frankincense.
ORGANIC ESSENTIAL OILS PROVEN TO ELEVATE YOUR MOOD & CLARIFY YOUR MIND
With all that is going on in our world at the moment, it is no wonder that many people are struggling with depression, anxiety and brain fog! Even in the best of times, many suffer from these mental hurdles on a daily basis. The US National Library of Medicine lists more than 23,000 references to scientific research involving essential oils and nearly 300 of them examine the use of essential oils for depression. While we definitely don't advocate for ceasing any current care/management plan you are currently on, we certainly want to invite you to discover the healing wonders when including the use of aromatherapy with organic essential oils in your regimen! We'll be exploring the history and benefits of aromatherapy in general later this month, but for now, let's delve into several that are famous for mental focus and elevating our mood... Click here to read more on our blog.
"After using the Elevation of Mind™, I am hooked. What an uplifting feeling every time I need it. I would say I am addicted to it because I keep it with me wherever I go. Anyone with depression knows how heavy-feeling it can get and this helps to relieve that feeling. I have been on several anti-depressants and none of them do what Elevation of Mind™ does and it doesn't have any of the side effects that go with anti-depressants. I also use it before I meditate to help elevate and clear my mind. I am so glad I found you and your essential oils. This has truly helped change my life in a positive way. I can't thank you enough."
- Bob S.

"Ginger's Ravenscroft oils are a feast for the senses! Just one sniff of the Elevation of Mind™ sends my physical, emotional, and spiritual bodies into ecstatic bliss!  I can hardly wait to enjoy more of her wonderful potions made with love."
- Connie