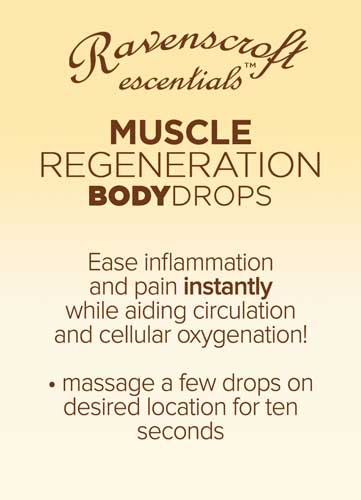 May ease inflammation and pain and stimulate circulation and cellular oxygenation. Many users experience relief within seconds of application. One of our top sellers!

Click this link to hear owner Ginger Ravencroft describe exactly how Muscle Regeneration works.
Usage:
Rub 3-10 drops on desired location depending on level of pain, or 10-15 drops on desired location when getting into a bath.
5 mL: 110 drops
15 mL: 330 drops
30 mL: 660 drops

Ingredients:
Organic jojoba oil, & organic essential oils of lemongrass, hyssop, cypress, fir needle & wintergreen.
Testimonials Compilation: 
"We just called and reordered the Muscle Regeneration Serum and I just wanted to tell you we love it!! My husband has had severe back pain for years and after using this oil he feels like he is more mobile and you just need a little bit so it should last for quite some time. I have had upper back, elbow and wrist pain for awhile as well and I just used a little and the pain was gone in about 5 minutes!! Love it!! Also, a girl at work has been having should/upper back pain for awhile so I brought some to work for her to try. She tried it towards the end of the day and when she got home she said the pain was gone. She has now ordered a large bottle for herself!! Thanks so much!!!"
- Travis and Cassie S
Individual Testimonials: