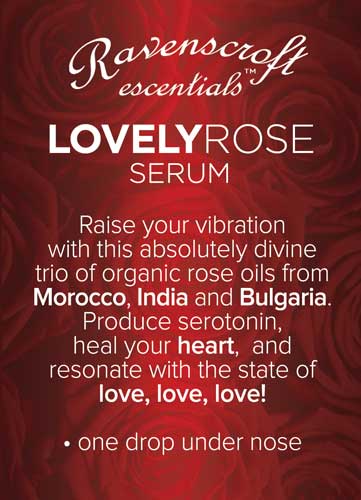 Raise your frequency to dispel fear. Open the heart chakra, instantly! May also ease stress, depression & panic by producing serotonin.
Usage:
Dab a drop under the nose & breathe deeply.
5 mL: 110 drops
15 mL: 330 drops
30 mL: 660 drops

Ingredients:
Organic jojoba and organic essential oil of rose, from Morocco, India & Bulgaria.
We've all heard the saying "Stop and smell the roses", but did you know that the essential oil these magical petals produce is actually healing? 
If you are looking for non-pharm options and totally organic methods of stimulating joy, dispelling fear and relieving depression or stress, you may well have found your forever answer.  
Ginger Ravencroft has spent over twenty years searching the globe for the purest, most aromatic, potent and highest quality organic essential oils. This has resulted in the fact that she sources the best of the best organically grown rose oils available on the planet to create combinations that offer sublime healing.