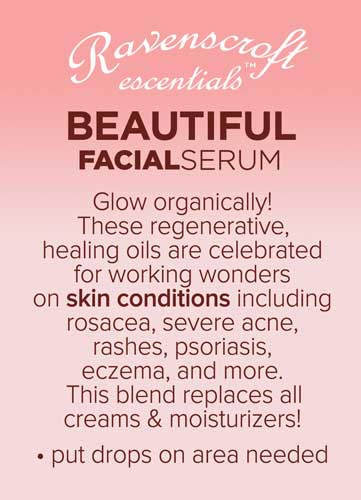 These regenerative healing oils are famous for working wonders on skin conditions, including rosacea, severe acne, psoriasis, eczema, and more. One of our best sellers!
Usage:
Dab 3-4 drops onto fingertips & massage onto face & neck, or try our
Beautiful Facial Mist.
5 mL: 110 drops
15 mL: 330 drops
30 mL: 660 drops
Ingredients:
Organic jojoba oil, organic essential oils including lavender, rose, jasmine, carrot, rose geranium, rosewood, roman chamomile, ylang ylang...
GLOW ORGANICALLY - TOP FIVE REGENERATIVE HEALING OILS FOR GLOWING SKIN
What makes using Organic Essential Oil Blends so amazing for our skin?? We've all heard about the therapeutic benefits of aromatherapy, but their work doesn't stop there! These organic, plant-based oils have healing properties that can aid exfoliation, encourage cell regeneration, act as anti-inflammatory, anti-microbial, & anti-bacterial agents, and work wonders for anti-aging. So, let's learn about the top five organic essential oils that will help your skin GLOW...
Click here to read more!


Testimonial Compilation:
"I use Beautiful Facial Serum twice a day and I love it. Within 4 days of using it, my acne scarring had disappeared and my cheeks and chin were no longer suffering from terribly dry skin. I love the way it smells and always get compliments whenever I spray it. I am so happy to have found this product. I can't wait to try some of your other essential oils!"
- Nicki H.
Individual Testimonials: